Private lesson
Entrance exam preparation
Orchestra audition preparation
Improving Skills
Competition preparation
Group lessons
Private lesson
Christoph Halleck
Cologne Sinfonietta Chief / Viola Lesson
Believe in Harek, who will hone his skills and nurture his image.
There are many young people who have been successful under the guidance of Christoph Halleck.Here is the first step to becoming a professional.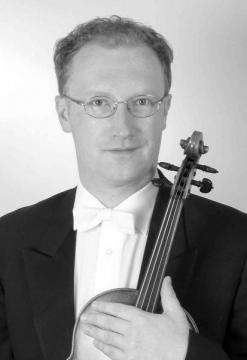 The word multi-talented is just like it is for this person.Few would have been so successful as a soloist, principal player of a symphony orchestra, composer, and leader.He studied under Professor Thomas Kaxka and Tabia Zimmermann, who are also famous as violinists of the Alban Berg Quartet, and deepened his knowledge of chamber music by participating in the Amadeus Quartet and Alban Berg Quartet, which are the leading chamber orchestras in Germany. .. In 2003, he performed in Japan with the German Bach Zolisden Orchestra.While playing an active part as the chief solo viola player of Cologne Sinfonietta, he is also enthusiastic about composing and has already released three songs.Hallek is now enthusiastically teaching violas at the Düsseldorf Clara Schumann School of Music, making use of his professional experience.He works with the students to practice each phrase well.This is to ensure that students can acquire the techniques required for the song and the image of the song.His students, who received such steady guidance, have won awards at numerous concerts and have been selected for the German National Youth Orchestra.I'm relieved that I can speak a little Japanese.
Request a Brochure
Easy input! Carefully selected "for each customer" and send different materials for studying abroad for free!

Book a Counseling
Do you have any doubt or concerns?
We will support you in your place.
\ Click here for those who have decided /
■ Recommended points ■
Cologne Sinfonietta / Former Chief
■ Qualifications ■
From 7 to 40 years old, beginners to professionals can participate.
■ Price ■
Lessons 3 times a week
1 week (6 nights): 281,770 yen (288,570 yen including tax) Departure time: Every Sunday
2 week (13 nights): 411,020 yen (417,820 yen including tax) Departure time: Every Sunday
3 week (20 nights): 540,280 yen (547,080 yen including tax) Departure time: Every Sunday
4 week (27 nights): 646,460 yen (653,260 yen including tax) Departure time: Every Sunday
■ What is included in the price ■
Private lesson fee (60 minutes / time), local accommodation arrangement fee, flat share accommodation fee (single room: practice possible), airport transfer fee, support service fee during local stay (telephone only), overseas international remittance fee, overseas international remittance Bank receipt fees, pre-departure support service fees, set discounts
■ Clarify some of the items not included in the price ■
Airfare, food, practice room, Japanese translation, overseas travel accident insurance, city travel, telephone, all personal expenses during free time, etc.
■ Price / Schedule Supplement ■
● The number of days displayed is the period from departure from Japan to arrival in Japan. ● It may be possible even for a period set arbitrarily. ● If you would like to have more than 4 weeks, please contact your counselor. ● sensei can be changed weekly. ● Please make a reservation as soon as possible as it may not match the schedule of the instructor. ● Depending on the local situation of the new corona infection, online lessons may be offered.Please note that if the course is offered, the fee will be charged excluding accommodation fees.The cancellation policy is based on the terms and conditions. ● Consumption tax may be required for some items depending on the conditions.
■ Application deadline ■
6 weeks before departure date
* Even before the application deadline, you may not be able to take the course due to sensei's circumstances, so we recommend that you apply as soon as possible.
* Even after the application deadline, if there is a vacancy in the course, you may be able to apply, so please contact the And Vision Counselor.
■Notes■
● Since there are very few accommodations where you can practice, you may need a practice room for an additional fee depending on the time of application.
Go back
Favorites
Your favorite has not been registered.
Click / tap the "Add to Favorites" button to register.
Recently viewed program
There is no browsing history.