What does it mean to study abroad in Austria?
Although the image of Vienna, the city of music, is well established in the world, it seems that Austria, a small European country, is not so well known that Vienna is still thought to be in Germany.Furthermore, "Austria" is famous for being mistaken for "Australia", and ironically, souvenirs with the logo "No kangaroos in Austria" are sold.However, in reality, Austria is one of the countries in Europe that has a high reputation for nature, history, artistic charm, gourmet food, humanity, security, and prices.
The beauty of the wilderness of the Alps, which is as good as Switzerland, the beautiful cityscape and elegance of Vienna, which is comparable to Paris, the deliciousness of Vienna's cakes and coffee, which is said to be the best in the world, and the private houses decorated with country flowers, including the Tyrolean region. Cheap and delicious countryside food.The security is safe even for women traveling alone, and the luxury of listening to the concerts of top performers such as the Vienna Philharmonic.Austria, with Paris and Switzerland, has all the charm of Europe.
Austria was once the home of the Habsburg Empire, and historical musicians have served aristocrats and contributed to culture.Under the rule of Leopold I, an excellent cultural figure and composer of the Habsburgs during the Baroque era, Vienna made great cultural developments and blossomed as the city of music.Austria is the country where Mozart from Salzburg, who was known during the reign of Maria Theresia and Joseph I, was active and has nurtured many musicians from then on to the present day.
Not only in the capital city of Vienna, but also in rural areas, there are music colleges and conservatory schools, and all schools have similar curriculums, and it is possible to receive first-class music art education.So, for those who want to study music in Austria or want to study abroad in Austria, I have compiled information about studying abroad in Austria.For Vienna,Study abroad in Vienna, the city of musicFeatured in, here we introduce music universities other than Vienna.
【table of contents】
Why study abroad in Austria
It can be said that "to trace the source of classical music."If you want to be a classical musician, it's important to touch, see, and feel with your own hands at the birthplace.There are many things that I couldn't understand in Japan, places that I couldn't play as I expected, and so on.You will be able to play naturally.I don't know if it's spiritual, because of good wine, or if sensei's teaching is good.What is certain is that you will be much better at it.
Specifically, Austria has traditional playing styles and conventions, which are very theoretical and easy to understand, similar to German grammar. Songs can also be applied to everything, at least in the field of classical music.You can learn it with a certain amount of technique learned in Japan, and you can bring out the credibility of the work and finish it in a performance that even those who know classical music can understand.It may be easier to understand when it comes to learning music grammar (Klangrede).
Austrian living and costs
Next, the environment where you can study music abroad with peace of mind is also very important, so let's take a look at life in Austria.If you study at the Austrian National College of Music, it costs almost no tuition compared to Japan.It is about 20 yen a year.The cost of housing depends on the flat you rent, but it is about 6 to 10 yen.Living expenses are roughly 15 yen a month.It is safe and you can go to a concert by yourself at night with peace of mind.A provincial city in Austria is calm and neat, and you will be able to live a leisurely music study abroad life away from the hustle and bustle.The official language is German, so you need to know the German language you need to live.This will be mentioned in the next section.
Get in touch with Austrian German and music
German spoken in Austria is quite different from standard German, with some idioms, phrases and words that are unique to the region.As in Japanese dialects, pronunciation and intonation of phrases also differ from region to region.Listen to the German spoken by the locals, as if you were listening to music.Even during a short period of studying abroad in Austria, you will be able to learn the phrases and words that are unique to that region.But not enough to be afraid.Lessons and lectures at the Austrian University of Music are in standard German.The Goethe Institute's German is sufficient.Conversely, of course, it is essential to study German in advance.
At most music colleges, when you enroll in a musical instrument major, you are required to have a German level of A2 to B1, and as I said earlier, how to make German phrases, intonations and accents are classical music. Being familiar with grammar and learning German will help you understand classical music.Learning words = learning music.I think that the vocal music departments who study German Lied and opera are familiar with it.
School system of Austrian music university (conservatory)
Every music college (conservatory) has an entrance examination, and passing it is a condition for starting school.You will have to prepare your own program of several songs for the practical test.Depending on the school or faculty, there may be additional exams for listening, music theory, and German.Since the assignment songs for the practical test will be announced in advance, you will select the songs yourself based on them (unlike Japan, the songs are not specified).
A performance song that suits me while consulting with sensei, such as taking lessons from a professor who teaches at each music university in advance, yet is comparable to students from other countries (different countries and different cultures). It will be most effective to prepare for passing.After passing the entrance examination and being admitted, you can complete the 6-year curriculum of the Austrian College of Music and earn a Master of Arts (MA) qualification as a Master of Arts.
Bachelor's and Master's courses
After completing an 8 semester bachelor's degree program and then a 4 semester master's degree program, students will earn the required credits for a total of 6 years of study and take a graduation exam.If you graduate from music college in Japan and have a bachelor's degree, you can generally enter from the master's program, but in that case you will be required to have the same level of playing skills as the bachelor's degree exam in Austria.
The conditions for admission from the master's program are to take and pass the entrance examination (audit), and to obtain a certificate of completion and transcript of the bachelor's degree.There is also a faculty of education called IGP in the instrumental music and vocal music majors, and you can aim to become a teacher of musical instruments majored in music schools and music colleges.If you choose the Lehramt course, you will be qualified as a Master of Education (MEd) and will be able to become a sensei of elementary, secondary and high school in Austria.
Graduate course
After graduating from the master's course, those who have not yet learned enough can enroll in the graduate course of the 2nd semester and study.
Pre-College Preschool
Each music college for the bachelor's degree entrance exam has a preparatory course, and after the two-semester enrollment curriculum, the bachelor's degree entrance exam is the graduation exam for that course.
Majors you can study in Austria
The following courses are available for studying abroad in Austria.Choose the course that suits you (please note that it depends on the school).
Instrumental Music Course / Education Course (IGP)
Piano, violin, cello, viola, guitar, contrabass, oboe, clarinet, bass clarinet, tuba, tuba, flute, organ, horn, harp, bassoon, trumpet, trombone, percussion, saxophone
Old musical instrument performer course
So-called "classical music" is an important and very lively genre in the modern concert market.This is a course to nurture future ancient instrument players through the practice of performances on various performance techniques and styles in the field of early music.The major instruments are as follows.Baroque Violin, Baroque Viola, Viola da Gamba, Baroque Cello, Hammer Clavier, Harpsichord
Composer / Music Theory Course
We not only provide knowledge in the field of composition, but also respond to all styles and strive to bring out the creative abilities of our students.In both the arts and technology fields, you will learn the constructiveness of composition and the skills needed to achieve it.It includes learning all areas of music (vocal, instrumental, electronic, multimedia), the ability to criticize one's work of art, and how to deal with other forms of art (visual arts, literature, dance). It will be.
Conducting course
In the Conducting Course, you will learn the artistic direction, style and music theory of all kinds of ensembles, develop your collection skills and, if necessary, lead the ensemble on the piano.In the end, you can choose between chorus conducting and orchestra conducting, and concentrate on improving your professional skills.
Vocal Performer / Education (IGP) Course
Opera (master's course)
REIT Oratorio (Master's Program)
The three-year bachelor's degree offers comprehensive vocal and musical training, as well as basic lessons in acting and drama performance. The master's program, which is taken by graduates of the bachelor's program, is divided into three courses: vocal music, opera and drama, and the REIT oratorio, in which specialized knowledge is learned in one of these courses.
Piano Theater Accompaniment Course (Master's Course)
In the genres of music theater accompaniment (rehearsals, auditions, singer instruction), opera, operettas, musicals and oratorios, you will learn basic conducting knowledge and how to communicate with the aim of improving organizational skills.
Chamber music course (master's course)
* Chamber music piano courses are available from the bachelor's degree at the University of Music and Performing Arts Vienna.
You can learn piano trio, string quartet, piano duo, piano ret accompaniment, new music ensemble (including electronic music and improvisation).
Austrian Conservatory of Music (other than Vienna)
* The University of Music in Vienna will be featured separately.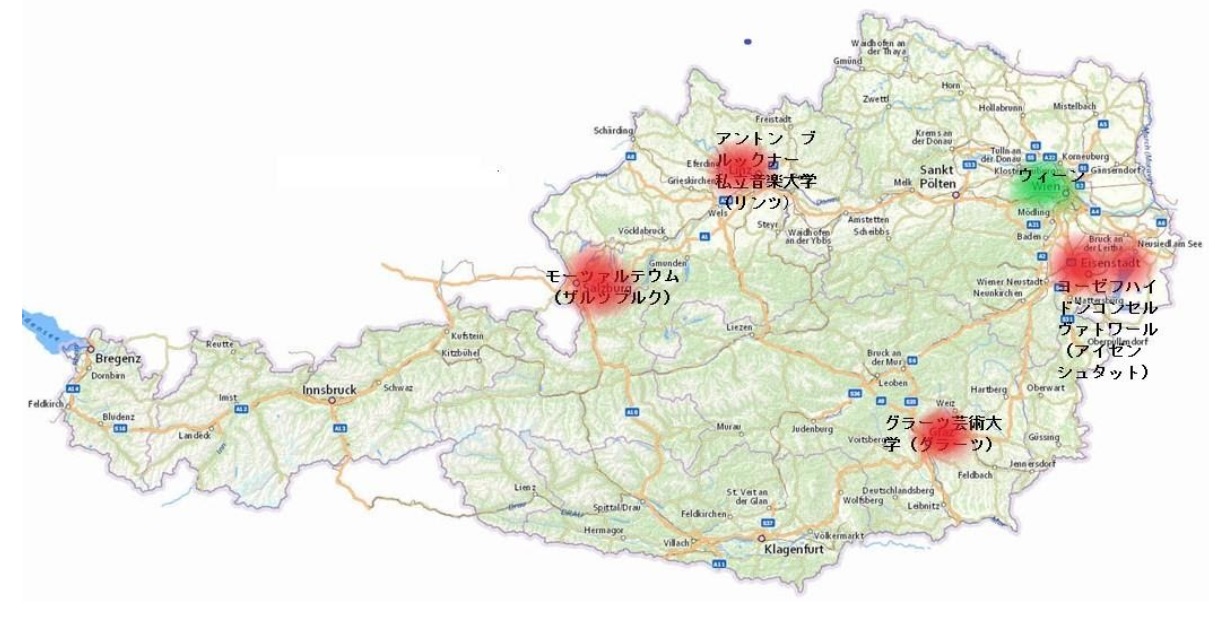 Mozarteum University of Music
(German: Universität Mozarteum Salzburg)
It is a national music art university in Salzburg, which is derived from Wolfgang Amadeus Mozart, which was born in Salzburg. Founded in 1841, it is a comprehensive art university for music and performing arts.It is a world-famous music education institution and has produced many famous musicians.Nikolaus Harnoncourt and other educators teach, and world-famous conductor Herbert von Karajan is also a graduate of the university.World-famous musicians gather at the Salzburg Festival in the summer, and workshops are held at the same time, so musicians from all over the world come to hone their skills during the summer vacation.Therefore, during the summer, the small town of Salzburg is filled with the enthusiasm of music.It is a music university that is very popular with Japanese people.
Learn more about Mozarteum University of Music
University of Music and Performing Arts Graz
(German: Universität für Musik und darstellende Kunst Graz or Kunstuniversität, abbreviated KUG)
It is a national music art university in Graz, the capital of Styria, near the border with Slovenia.Styria is famous for apples, dairy products and pumpkin seed oil.Near the border with Slovenia, there is a wine-producing region called Tuscany in Austria, where beautiful vineyards and delicious foods are concentrated.About half of the music college students are foreigners and can receive global and traditional music education in an international atmosphere.Graz, Austria's second largest city, should also be able to enjoy a variety of cultural events.In addition, there is a library in the Oberschützen school building in the middle of nature, and the practice room is open to provide musical instruments.You can concentrate on your practice in a quiet environment.
Learn more about Glatz National College of Music
Anton Brookner Private College of Music
(Germany: Anton Bruckner Privatuniversität)
An art university located in Linz, the capital of Upper Austria.Named after the Austrian composer Anton Bruckner, born in Linz.Located 70 kilometers from the German border town of Passau and about 150 kilometers east of Vienna, Linz is Austria's third largest city on the river Donau.Designated as the second European Capital of Culture in Austria, it is also known as the place where the world-famous musician Mozart's symphony "Linz" and Beetho-Ben's symphony "No. 3" were composed.It is also home to the Linz Bruckner Orchestra, one of Austria's major orchestras, and is one of Europe's leading concert halls in the field of classical, jazz and world music at the Bruckner House Linz. You will be able to enjoy the concert event and live a fulfilling life as a music student.
Learn more about Anton Brookner Private College of Music
Joseph Haydn Conservatoire
(Germany: Joseph Haydn Konservatorium des Landes Burgenland)
The school's name, Joseph Haydn, served as the conductor of the Hungarian aristocratic Esterhazy family, composing numerous works for Esterhazy while living in Eisenstadt for most of his life.Classical concerts and operas are actively performed at Esterhazy Castle.Burgenland, whose capital is Eisenstadt, is also world-famous for producing wine that surrounds Lake Neusiedl.After completing the 6-year (8 + 4 semester) curriculum, the Instrumental Music and Vocal Music Department will be able to obtain an art day proma, and the credits will be approved as ECTS (European Credit Transfer System).The Faculty of Instrumental and Vocal Education is also affiliated with the IGP of the University of Music and Performing Arts Vienna, where you will be qualified for a Bachelor of Arts Bachelor of Arts after completing the 8th semester.
Frequently Asked Questions about Studying in Austrian Music (FAQ)
Q. How long should I speak?
A full-fledged music study abroad program at the Austrian University of Music requires language levels A2 to B1, depending on the school.Even if you do not reach this language level, some schools will wait for about a year, so be sure to research in advance.However, there is no doubt that it is better to study as much as music because language is also good for understanding music.
If you are going to study abroad for music for a short period of 1 to 4 weeks, you can also have an interpreter specializing in music (although it is better if you can understand the language as much as possible), so first of all, breathe in the authentic Austrian atmosphere. recommend to.If the composer knows what he sees and feels, he will continue to understand music.
How old are you up to?
Full-scale music study abroad to enter school depends on whether it is a music university, a private music school, an instrumental music major, or a conductor, and although it is not specified, it is generally around 30-35 years old. Up to.Some private music schools may accept children up to 40-45 years old if they have loose age restrictions.Please contact us in advance as we cannot make a general statement regarding age on a case-by-case basis.
If you want to study abroad for music for 1 to 4 weeks in a short period of time, you can go from 8 years old to 80 years old.Depending on the class, it is possible up to 100 years old!There is even a class that says that.Private lessons are possible for any age.
I'm an amateur who started recently, can I study abroad in music?
For full-scale music study abroad to enter school, the music university itself becomes an educational institution that trains professionals, so you can see the level and future potential.It is recommended to check in advance in the sensei lesson.
If you want to study music for a short period of 1 to 4 weeks, it depends on sensei, but in many cases, amateurs are also welcome.Some people hesitate to study abroad in music because it's a little professional, scary, and angry, but please be assured that the loose and cheerful Austrians will be polite and enthusiastic. (See our individual sensei section for conditions).It may be a chance for a big musician on that stage to take lessons.
I would like to discuss the details of studying abroad in music that suits me ...?
Your personal history, what you want to do, your major, and the situation are different, so please take our music study abroad counseling. A counselor specializing in music study abroad, which has been cultivated for over 15 years, proposes sensei and schools that suit the customer.
Click here to apply for counseling
Summary
In addition to the method of enrolling in an Austrian music university or conservatory to study, it is also very meaningful to take part in classes and private lessons held in various places as a short-term music study abroad program. In a short period of 10 days to 2 weeks, you can see the land of Austria, smell it, and listen to it, and you will have a fulfilling day of focusing and facing music.In the meantime, why not take a walk through the Donau River and the forest that nurtured the musicians and cultivate your spirit.
Of course, listening to music is a must-see event.Visit the concert hall where the work would have been premiered, and experience the sound, the breath of the performers, and the "grammar of music" they spun.You should be able to see "musical grammar" just like in German.I hope you will realize that studying abroad in Austria is so meaningful.
【Related Links】