Learn music in Vienna
Vienna, the capital of Austria, known as the City of Music, the City of Forests and the City of Baroque, flourished as the Holy Roman Empire of the Hapsburgs and the Austro-Hungarian Empire, and has been the political and cultural center of Europe for centuries. did.The trajectory can be seen in the magnificent buildings of the Habsburg era that still remain in the city of Vienna, as well as the vast amount of art and crafts.
Music is prestigious not only at the National Opera House (Vienna National Opera), the Wiener Musikverein, and the Vienna Concerto House, but also at Schönbrunn Palace, the Royal Palace, Stephansdom and Karls Church, and the former aristocratic mansion. Concerts by the performers of Vienna are held almost every day, and it makes me wonder which concert to visit.
There are many music education institutions, and there are options such as the University of Music and Performing Arts Vienna and the Private Conservatory, as well as the University of Music and Performing Arts Vienna, which is said to be difficult to enroll.It is possible to enroll in those schools and live a music study abroad life in Vienna.
Here, we will explain about life in Vienna, the benefits of learning music and the music education institutions in Vienna.For music study abroad in Austrian cities other than Vienna,Let's take a panoramic view of Austrian music study abroad!Introducing the University of Music in Vienna.
【table of contents】
Benefits of learning music in Vienna
The benefits of learning music in Vienna.After all, it's a wonderful musical environment where you can fully immerse yourself in the music.Many concert halls in Vienna, which I mentioned at the beginning, host various music events day and night, and students' concerts are frequently performed publicly in the hall of the University of Music in Vienna.If you live in the city of Vienna, you can access these concert halls in less than an hour, and you can enjoy first-class music and performances very close to you, at a low price (or for free).
Travel back in time to your favorite times in Vienna
The second attraction of studying music in Vienna is that it has an environment that is almost the same as when the musicians who were active in Vienna lived, from baroque to classical and contemporary composers.The Viennese forest where Beethoven walked, the Heuriger and Gasthaus where he ate, and the cafe house where Schubert talked with his friends, all still exist.
If you spend time in Vienna, you will feel the breath of the times as if you were back in time.And that's not all.You can see a huge collection of art in many museums, and the city is dotted with historical buildings and cultural heritage, and you can see the buildings built in the style of each era, from Baroque to Renaissance. It is easy to inflate the image of the music that the composer imagined by linking it to the style of the musical era, up to Jugend Stil.
Vienna life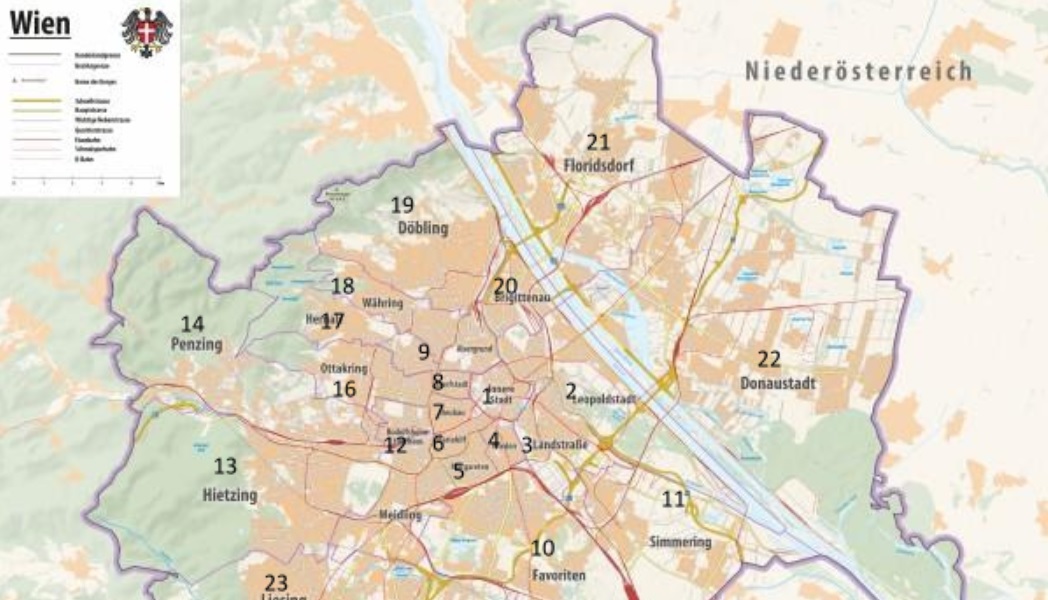 The city of Vienna, which consists of 23 wards like Tokyo, is crossed by the "Beautiful Blue Donau" river, with 21 and 22 wards on the east side and the other wards on the west side, centered on the center 1 ward. I am.
The areas around the 1st, 3rd, 4th and 9th wards, where the universities of Vienna are concentrated, are convenient and popular places for students.In contrast, the suburban areas of 13, 14, 18, and 19 near the Vienna Forest are quiet residential areas.No matter where you live, you can reach the cultural center of the district within 30 minutes by convenient public transport.
There are also many bicycle-only roads, and in Corona, many people switch to bicycles or electric scooters to avoid the congestion of subways and trams, or to avoid the obligation to wear masks.Many rental cycles and scooters are installed in the city, and you can move while charging the rental fee to your smartphone.Now (as of August 2021, 8), the lockdown has been unlocked, so restaurants are reopening and the city of Vienna is back to its usual bustle.
Living expenses for studying abroad in Vienna
Although it is a food expense, the price is about the same as in Tokyo, whether you cook for yourself or take out.The difference is that there is no convenience store.Foods that are relatively cheap and delicious compared to Japan are fruits and vegetables, dairy products, processed meat products, wine, and beer.I think the prices of daily necessities and cosmetics are almost the same as in Japan.Recently, recyclable and eco-friendly products have become popular, and there is a tendency to avoid plastic containers.
In addition, the commuter pass for transportation in Vienna costs 365 euros (about 5 yen) a year. It's a great deal if you think it's 1 euro a day.If you are a student, you will get a discount.You can listen to concerts cheaply by using a regular reservation ticket (Abonnement), and there are standing seats at the Opera House (Vienna State Opera) and the Wiener Musikverein, and the price ranges from 1 euros to 5 euros (from about 10 yen). It is very cheap (650 yen), and it is an environment where anyone can enjoy music.
Housing expenses for studying abroad in Vienna
The cost of housing depends on the flat (apartment) you rent, but it is generally about 6 to 10 yen including management costs (the cost of housing really depends on the conditions, so please consider it as a general theory).In addition to that, a security deposit, key money, registration fee, monthly utility fee, disaster insurance premium, internet fee, mobile phone fee, etc. are required at the time of contract.Compared to other big European cities, it is far safer and has fewer beggars and tramps.
Citizens' eco-consciousness is very high, the city is well-cleaned, and it is very comfortable to live in.Instead, to live in Vienna, you need to live in the same manners as the citizens of Vienna.It's also a problem for musicians who have to practice their instruments in the apartment.Even if it's an apartment where you can play musical instruments, it's enough to make sure that the sound isn't noisy, even for those who don't claim their rights, don't complain from the people around them, and even for those who prefer a quiet environment. It is important to be careful.
If you really want to put yourself in an environment where you can make sounds without hesitation, there are several facilities in the city that rent out practice rooms, so it is one way to use those facilities.The rental fee is about 500 to 3000 yen per hour.Also, at the University of Music, there is a practice room that is open to students, so you should use it more and more.
Tuition for studying abroad in Vienna
Of course, tuition is also important for studying abroad in Vienna.The school will be described later, but it costs about 20 yen a year at the University of Music and Performing Arts Vienna.The Vienna Private University of Music and Arts costs 30-40 yen a year, and the graduate school costs about 78 yen.The Vienna Academy of Music and Arts (AMP) is an art day proma course and costs about 100 million yen a year.If you take out student insurance from the Austrian Health Insurance Fund at the same time you go to school, you will have to pay about 10 yen a year.
School system of the University of Music in Vienna (Conservatory)
Every music college or institute in Vienna has an entrance exam, and passing it is a prerequisite for starting school.For the practical test, we will prepare a performance program consisting of several songs.Depending on the school or faculty, it may include hearing and theory exams and German exams.
The songs for the practical test will be announced in advance, so we will select songs based on that.Unlike Japan, the song itself is not specified, so take a lesson from a professor who teaches at the desired music university or conservatory in advance, and prepare a performance program for the entrance examination while consulting with sensei. Is a shortcut to passing and will be effective.After passing the entrance examination and being admitted, you can qualify for a Master of Arts (MA) as a Master's degree after completing a six-year curriculum at the University of Music (Conservatory) in Vienna.
Bachelor's and Master's courses
As a general rule, after completing a bachelor's degree (batula) course in 8 semesters and then a master's degree (master) course in 4 semesters, students will earn credits for a total of 6 years of study and will have a graduation exam.If you have graduated from a music college in Japan and have a bachelor's degree, you can enroll in the master's program, but in that case you will be required to have the same level of playing skills as the bachelor's degree exam.Admission requirements from the master's program are that you must take and pass the entrance examination, and you will be required to have a bachelor's degree certificate and transcript.However, please note that some majors do not have a bachelor's degree and a master's degree because of the transition period.
There is also a faculty of education called IGP in the instrumental music and vocal music majors, and you can aim to become a teacher of musical instruments majored in music schools and music colleges.If you choose the Lehramt course, you will earn the Master of Education (MEd) qualification and become a sensei of elementary, junior high and high school in Austria (Vienna).
Graduate course
After graduating from the master's program, those who have not yet learned enough can enroll in the graduate course of the 2nd semester and further study.
Pre-College Preschool
There is also a preparatory course for the bachelor's degree entrance exam, and after the two-semester enrollment curriculum, the bachelor's degree entrance exam is the graduation exam for that course.
Majors that can be learned by studying abroad in Vienna
Instrumental Music Course / Education Course (IGP)
Piano, violin, cello, viola, guitar, contrabass, oboe, clarinet, bass clarinet, tuba, tuba, flute, organ, horn, harp, bassoon, trumpet, trombone, percussion, saxophone
Jazz, popular music course
Accordion, contrabass, electric bass, vertical flute, harmonica, ethno percussion, guitar, vocals, saxophone, trumpet, trombone, harp, piano, tuber, vibraphone & mallet, violin, flute, percussion
Old musical instrument performer course
So-called "classical music" is an important, very lively and popular genre in the modern concert market.This is a course to nurture future ancient instrument players through the practice of performances on various performance techniques and styles in the field of early music.The major instruments are as follows.
Baroque Violin / Baroque Viola, Viola da Gamba, Baroque Cello, Hammer Clavier, Harpsichord
Composer / Music Theory Course
We not only provide knowledge in the field of composition, but also respond to all styles and strive to bring out the creative abilities of our students.In both the arts and technology fields, you will learn the constructiveness of composition and the skills needed to achieve it.It includes learning all areas of music (vocal, instrumental, electronic, multimedia), the ability to criticize one's work of art, and how to deal with other forms of art (visual arts, literature, dance). It will be.
Conducting course
In the Conducting Course, you will learn the artistic direction, style and music theory of all kinds of ensembles, develop your collection skills and, if necessary, lead the ensemble on the piano.In the end, you can choose between chorus conducting and orchestra conducting, and concentrate on improving your professional skills.
Vocalist / Education (IGP) Course
The three-year bachelor's degree offers comprehensive vocal and musical training, as well as basic lessons in acting and drama performance. The Master's program is divided into three courses: Vocal Music, Opera and Drama, and REIT Oratorio, where you will learn specialized knowledge in one of these courses.
Opera (master's course)
REIT Oratorio Course (Master's Program)
Piano Theater Accompaniment Course (Master's Course)
In the genres of music theater accompaniment (rehearsals, auditions, singer instruction), opera, operettas, musicals and oratorios, you will learn basic conducting knowledge and how to communicate with the aim of improving organizational skills.
Chamber music course (master's course)
* Chamber music piano courses are available from the bachelor's degree at the University of Music and Performing Arts Vienna.
You can learn piano trio, string quartet, piano duo, piano ret accompaniment, new music ensemble (including electronic music and improvisation).
University of Music in Vienna
* The University of Music in Vienna will be featured separately.
University of Music and Performing Arts Vienna (University of Music and Performing Arts Vienna)
It is a well-known music university (art university) that deserves to be called the world's highest music university.To prove it, in the field of music and performing arts, the University of Music and Performing Arts Vienna (University of Music and Performing Arts Vienna) won first place in the World Music University Rankings 2019.
The college graduates are highly regarded by their employers, and the president confidently states that "our graduates have the best opportunities in the job market."In addition, it is ranked first in the music university rankings, equivalent to the famous Juilliard School in New York City. "This year (2019), no university can be more highly regarded among leaders in this field than the University of Music and Performing Arts Vienna (University of Music and Performing Arts Vienna)," said Ben Souter, QS Research Director. I am explaining.Austria as a whole also boasts a high employment rate for graduates in the fields of music and art.
Learn more about the University of Music and Performing Arts Vienna
Vienna Private University of Music and Arts
The history of the Private College of Music and Arts in the City of Vienna dates back to the Municipal Music School under the jurisdiction of the City of Vienna, which was founded in 1938. In 2004, it was spun off from the municipality of Vienna, and in 2005 it was certified as a private university.An art university that studies music, dance, and theater. It is a popular music university in Vienna as a first-class educational institution that is as good as the University of Music and Performing Arts Vienna (University of Music and Performing Arts), with world-renowned performers teaching younger generations.
Learn more about the Vienna Private University of Music and Arts
Jam Music Lab Private University
Jam Music Lab Private University is a relatively new private music university for jazz and popular music since 2011.Our sister school, the Academy of Music and Arts (APM), offers a four- to five-year art day prom course, while here you get a bachelor's degree and a master's degree in jazz and popular music. I can do it.The university's music education style is a pioneer in Europe as a whole in developing talent other than classical music.
Conservatory in Vienna
Vienna Academy of Music and Arts (APM)
The Vienna Academy of Music and Arts (APM) is a publicly recognized conservatoire.Jam Music Lab is a private university and is based in Gasometer Vienna, 11th district of Vienna. AMP's faculty has many years of teaching experience and is active in various music colleges and academies in Austria and Germany.It offers music and performing arts diploma programs in all arts and education disciplines, including classical, musical, dance, pop, rock and jazz, and is state-approved art upon completion of a four- to five-year school course. Earn a day proma.
Summary
Make the most of the advantage of Vienna, the city of music, and enrich your life as a music student in Vienna.Sew between practice and class, go to the concert, and on the way back, sit in the historic cafe house, drink melange (coffee with frothed milk), read the daily newspaper, and relax. If you spend some time, you may find Brahms and Richard Strauss, who sway the cigars on the table next to them.
The university also organizes many public lessons, class concerts, and open workshops.Stretch your antenna and join even if you don't understand German a little.You will definitely get it.
【Related Links】